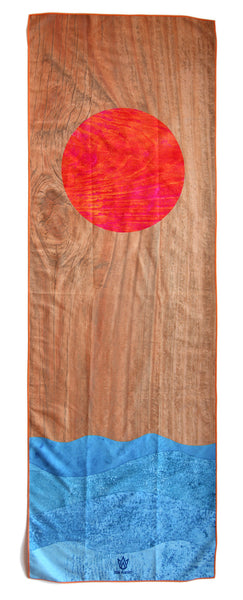 "Solar Wave" Microfiber Yoga Towel
Fire up with this abstract sun and cool flowing waves.
This towel gives you improved grip for sweaty yoga or a soft place for your Yin practice. Microfiber with grip dots for added traction. 72˝ x 24˝ super absorbent microfiber that fits your mat perfectly.
Use & Care
Here's what we like to do: before practice, spray the towel with water to dampen – this improves the grip. Sweat more. Grip more. Be more. We recommend washing the towel before first use. Machine wash cold (warm if it gets super sweaty). Hang or tumble dry low. Oh yeah, please do not use dryer sheets or fabric softeners as these make the towel slick. No bueno.
Better traction when damp. 85-90% polyester, 10-15% nylon.